Lets take a look to see which projects I've finished, frogged or still working on from my March 17th's post: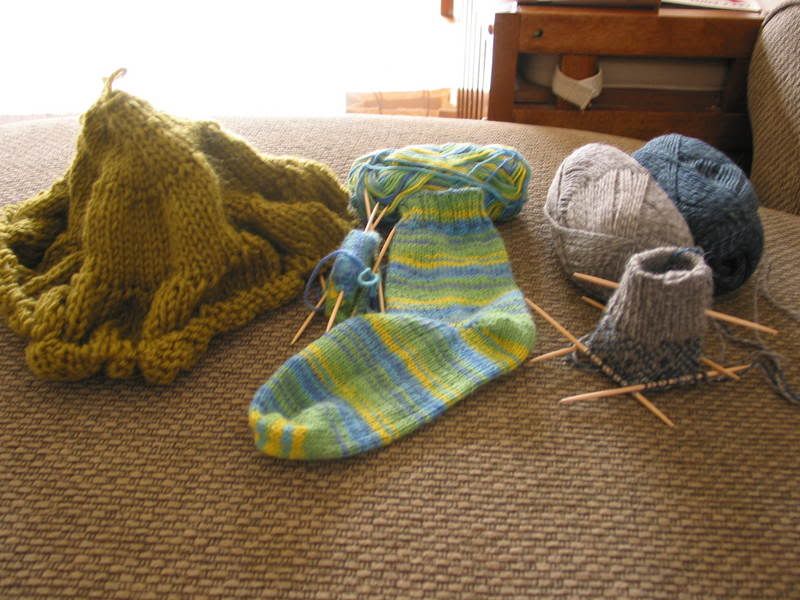 The blob on the left is a kitty pi bed I made, felted and gifted to Meeko. The socks in the middle are Maddie's and she loves them and the last project on the right, is the start of a pair of end paper mitts by Eunny Jang. I finished one and rippied it because it was a tad too tight, and franky I think fingerless mitts are kind of dumb ass. But I wanted to have a try at two colour knitting.
Okay, on to the next picture, the little lacey number was a Flower Basket Shawl that my fellow SnBer helped me rip a few weeks back. BTW - she seemed a bit too happy to help me out! Right Sandra? The brown sweater hasn't been touched in months, and I don't feel the need to rip it, so I think one day I will get back to it. Ariann, my love - I'm on the 2nd ball and still enjoying knitting this. But how can you not love knitting patterns from Bonne Marie? Just ask me I will tell you.
What else have a cast on and NOT finished?
Log Cabin Blanket - my interested has not faded but I need to get my 60" needle from Knitpicks to continue. It is so freaking big, that the 29" needles I'm using do not cut it as my hands freaking kill me everytime I knit a stitch. Not good.
Scoop Neck Cami from IK Summer/06 - really just cast on and knit 1/2 of the first row.
Ribby Shell, half way finished!
Clapotis - Mini - Tess Design Yarns - doubt this will see a lot of love, but one never knows when interest on other projects fade and a new love starts.
Orangina - didn't think I would cast on for this until the above were done, but I guess I should never underestimate my impatience of trying to finish something to start something new.
Tatimo Kimono - just a cast on is all I have.
I think I like to cast on projects so they are ready for me to easily pick up when I'm excited to work on them. Yeah, that describes my finicky ways.
posted by Lisa @ 2:25 p.m.