Whew - what a fantastic weekend we had, especially me! I took advantage of Romni's July Sale of 20% off everything and bought this: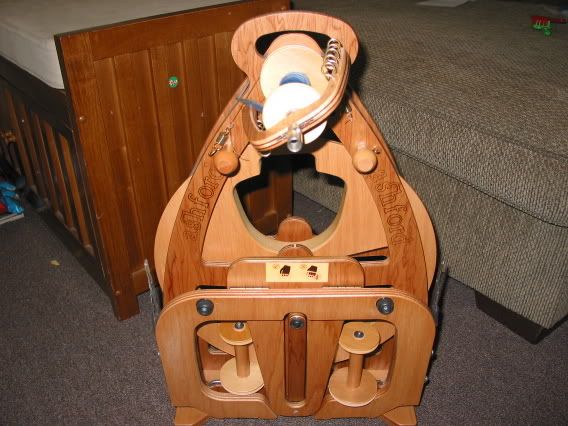 Yes people I bought the Ashford Joy wheel and LOVE it. I am so lucky to have a husband that understands by fiber obsession and didn't even blink an eye when I suggested we go down to Romni to pick it up. Here is my first try:
Not very good, but then again it was 10:30pm and I was too tired and hungry to keep going. Tonight I'll give the wheel another go. I'm sure the girls are interested to see how it all works. Maddie desperately wanted to be in the picture, but considering she was buck naked she settled to have only her feet in it!
After the big purchase we then walked around Queen St West, then Queens Quay and went to a driving range. What an awesome afternoon spent with the family. The girls are at such a great age that these outings are so much FUN!
Well that is all for now - have a good one.
posted by Lisa @ 10:33 a.m.