Man, I can't believe it has been almost a week that I last posted. M's dance recital was a success. My four year beamed while performing for both acts and both shows. She loved dancing on stage in front of a hundred or so people. M is far from shy, but I find it quite funny that even though she is not shy, she is not adventurous like her sister J. J will do about anything adventurous, but M won't - and J would never dance on stage in front of an audience. Funny how my two girls are so different.
I do finally have some knitting to show you. First, a really bad picture that M took of the Chickami: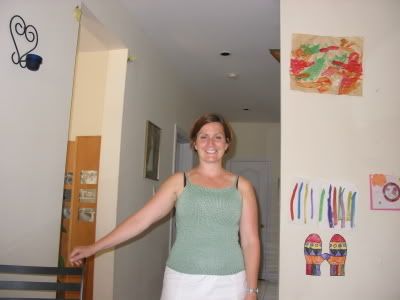 Project Specs: Chickcami by Chicknits Yarn: Lewiscraft Cotton Sensation. Size 34", used exactly 4 balls.
An almost finished Tulip. A bit of ends to weave in and the crochet edging and I have a wonderful top. Thanks Lisa!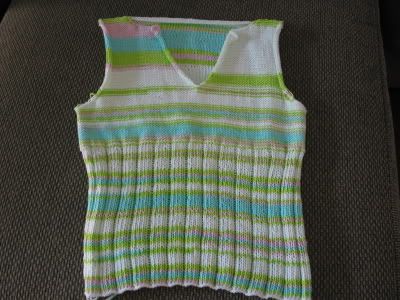 Project Specs: Tulip by My Life in Stitches Yarn: Katia Jamaica, Size Small used 2 balls and a bit, and by a bit, a mean a bit.
This top fits wonderfully - I can't believe it - I think this is one of the best fitting knits I have made so far. I would so make another one, maybe in a different yarn!
posted by Lisa @ 9:24 a.m.