I always thought the title of these books were kind of cute but kind of stupid until I needed to refer to this one on how to make Granny Squares: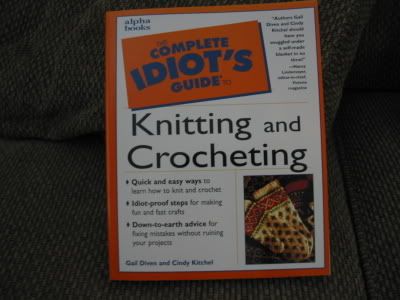 I went to countless websites describing the how-to of Granny Squares, I consulted the SnB Happy Hooker instructions and didn't crochet a successful square. Until this book. It is the 'Complete Idiots Guide'. Not just idiot - but complete idiot. That is me, a complete idiot. But it did help, see: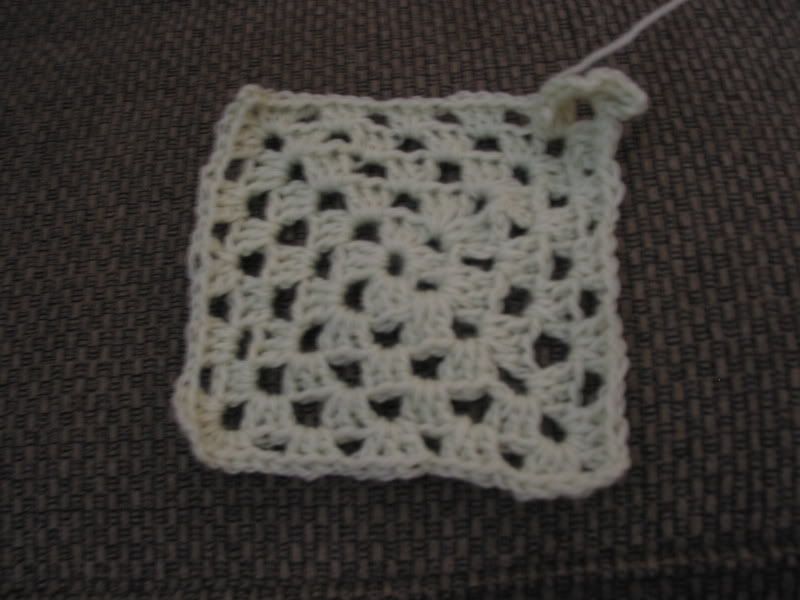 So my advice to you complete idiots out there, if you want to learn how to make a granny square, don't go to the Internet, use this book. It will help you out tremendously. I am not sure why I felt this sudden urge to make a GS, but I think it has to do with Samantha's call for 8x8 blanket squares for the blanket she is making for a friend. I thought why not include some granny squares to make it look interesting. I wonder if she would like to get some?
Samantha - if so, I'll whip out a few and send them to you! They are ever so fast and would really look good scattered throughout the blanket. That is my opinion.
Speaking of Annette's blanket, here are the five I made:
Nothing fancy, but you need plain and simple in sections. The yarn I used for the top three was sent to me from my SIL in France, so it is special yarn I used. The other two was left over from a newborn sweater/hat combo I recently made. So I tried to use yarn that had some special meaning as the blanket that is being made is for a special reason.
Maybe one day in the near future I'll have a knitted FO. One can only hope!
Have a good day!
posted by Lisa @ 10:14 a.m.