Not a lot of knitting going on due to the blasting heat Toronto has been hit with. I am not complaining, believe me, but the heat really doesn't allow you to do anything except veg out! I bought the SnB Happy Hooker book a few weeks back to give my hand a try at crochet and whipped out this little clutch: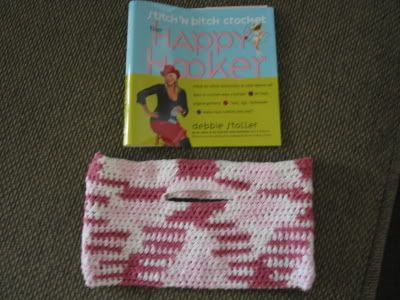 A bit blurry, but you get the picture. I used Bernat Handicrafter cotton I had in the stash and because it is a pinky colour, my youngest daughter claimed it was hers even before I finished it. I gave it to her because I doubt I would ever use it, I just wanted to make something easy and practice my crochet skills.
Samantha has asked for 8x8 squares in greens or blues so she can put together an afghan for a friend who recently lost her husband. I will send her over some green squares, so that is what is on the needles currently.
Other knitting news is really not that exciting, I started a Ribby Shell in Lewiscraft's Cotton Sensation in a pale pink, started the 2nd koigu sock and keep feeling guilty about not finishing the 2nd piece of Orangina. Ah, but these can wait for now.

posted by Lisa @ 11:59 a.m.