Finally, after some rough starts,
Ariann
is done like dinner! Because I was a bit of a donut knitting this . I re-knit from the armholes up three times, and the collar was knit twice. They were all my mistakes, because frankly,
Bonne Marie's patterns
are so well written, I have only myself to blame.
When the collar was done, I did the happy dance,
then
I tried it on and noticed the edging of the collar looked really wonky. As I stood there looking at it in the mirror, with a WTF look on my face, the lightbulb went on over my head and I realized I didn't slip the first stitch purlwise. Duh'isa! So, 4" of garter stitch went flying off the needles and I re-knit it, slipping the first stitch. Wow, what a difference it makes when you slip it!
I took pictures of me finishing this lovely sweater. The last end to weave in:
The final cut:
Me trying to put my sweater on quickly, as Chris keeps snapping the pictures: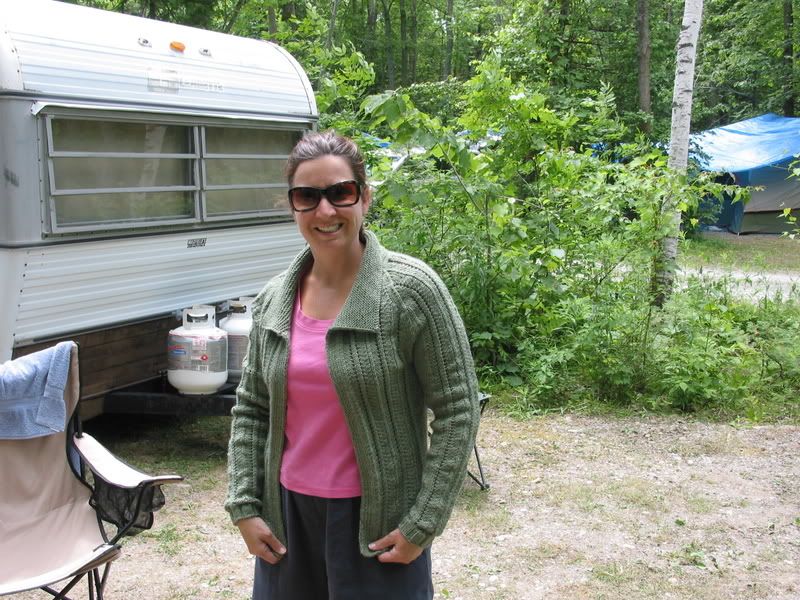 Some buttons, a bit of blocking and I will have a nice fitting sweater come winter! yeah Lisa!
Thanks Bonne Marie - you are so fab and creative - keep the excellent patterns coming!
posted by Lisa @ 8:24 p.m.