Well well well, look who has 6, count'em 6 WIPs. ME, that is who. I wonder how this happened, but I bet you can guess, I am weak, weak I tell you.
The varigated lacey thing is the Flower Basket Shawl that I completely loath. Hate it, but must of the time feel determined to finish it. I know now that knitting lace is not my thing. Not just knitting it, but I doubt I'll wear this kind of shawl. It looks a bit homey to me. The beige item is a cable knit jacket from Sandra Magazine. I will love it when it is done, but have completely fallen out of love with it. Lastly, the sage green is Arian which I have not has a lot of time but I promise, I will soon.
Oh and don't forget about these little puppies. The booby looking thing is going to be a kitty pi bed for Meeke, the 2nd sock for Maddie is in the middle and the last item on the right will be Endpaper mitts. This one is quite fun to knit, however I think fingerless mitts are dumb, but I want to try my hand two colour knitting and these seems like the right project to do just that.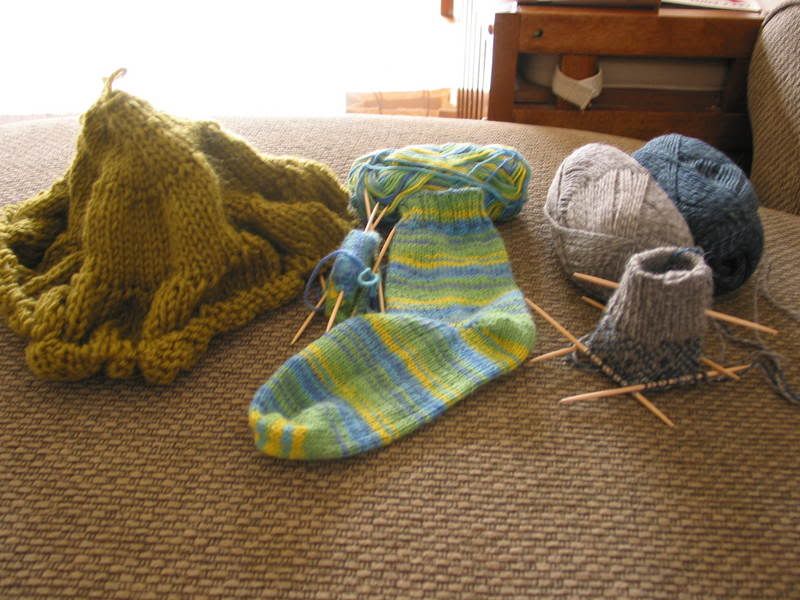 The kitty pi bed is for meeko, however I am unsure how much longer my little, er big fat kitty will be around. She is on her 3rd round of antibiotics and it doesn't seem to be helping her get better. She is hardly eating and drinking an unbelievable amount of water and not getting rid of it. These issues and others have been going on for 1 year now and I am not sure how much longer I can take. I feel bad for her and for myself, because I do feel guilty putting her down to sleep, but can't bear the thought of going another year of cleaning up shit, bathing her and taking her to the vet to try more drugs.
Vent over. have a good weekend.
posted by Lisa @ 1:16 p.m.