Look, look, look what I got:
On Saturday morning at some ungodlike hour, Chris, Julianna and I set off for J's 9:30am hockey game in Barrie, which is 1 hour and 15 minutes from home! Yeah, that is what I want to do on a Saturday morning, but we did. This is not normal for us, as girls hockey is a bit more civilized and we don't have to wake up this early for a game. I was debating to go or not and decided to go because the game was the 2nd last one with her select team and I didn't want to miss it. Unfortunetaly they lost 3-2, but they had fun so that is all that matters.
On our way home I spotted a Michaels store and popped in to see what they had. As J and I were purusing the aisles I noticed anything with an orange sticker on it was 50% off and that item pictureed above had an orange sticker on it! I bought this puppy for 110 bucks my friends. That is really cheap. Yeah for me! I have a few sweaters in the queue that are knit using plain stockinette stitch so I will make it using my brand spanking new machine.
Lucky me! And that is not all my friends. We then went next door to the Petsmart and bought this: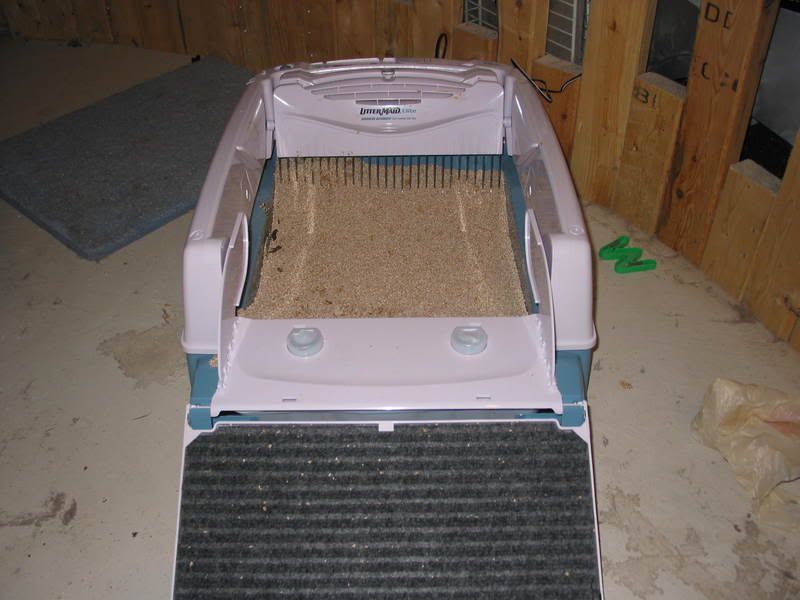 I am so freaking tired of scooping cat shit that I could scream. I have quite a large cat and the amount that comes out of this thing is unbelievable. Plus I can't stand the smell of the stuff sitting there. I think it works fine, but I will have to dump that bin it scoops everything into every day, but I might be less work and less time consuming than the average box.
Anyone out there that as the Litter Maid box? Like it, hate it? What's the scoop?
Labels: Knitting Machine
posted by Lisa @ 10:27 a.m.