Hey guys - I got my first nasty little comment and of course it was by an anonymous person. Hee hee. I posted to the
Sexy Knitters Club KAL blog ab
out my not so loved Wicked and this is the comment I received:
"Just because it isn't "streetwalker" tight doesn't mean it's too big! It looks like it fits just right! Omg, were wanting a second skin?"
Hardy dee har har! Got to love it - I know I do. This idiot didn't even read what I thought was too big, which was the sleeve section, not the body. Moron!!!
Knitting news - I finished Odessa last night and I will try to get a picture of it soon. It is quite a clever little pattern, but I doubt I would wear it because of the colours of the yarn. I used the left over ball from
Tulip
, so the hat is a bit easter egg looking, but will be great to use when I am camping in May.
This is such a cute picture of my girls: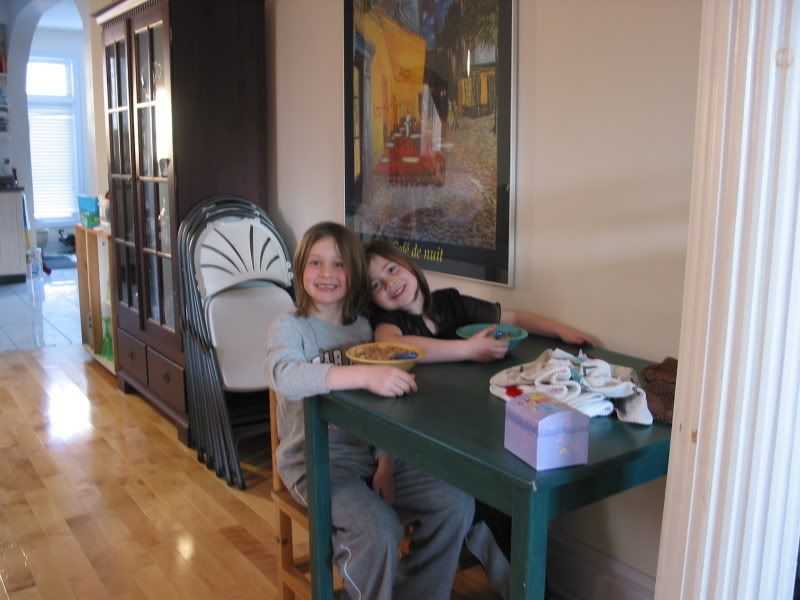 Why you ask because it looks like a normal kid picture to me? Because, they made their own breakfast, set themselves up at this extra little table we have and did it all without fighting. When I came downstairs and saw them all set up like this, I had to take a picture of them. At almost 8 and 6 years old, we are trying to get our girls to be more independent and this is one step closer.
Hope you guys all have a great weekend.
posted by Lisa @ 9:23 a.m.