The time has come to show some actual knitting content - with pictures and everything! I like to post pictures, but my camera's batteries needed to be re-charged, and for whatever reason I never plugged it in til yesterday. I walked by the damn thing every day, and kept saying to myself I would plug it in later. Well that later never came until yesterday. Not only did I get my ass in gear with the camera, but I am in the home stretch of finishing the ESS. See: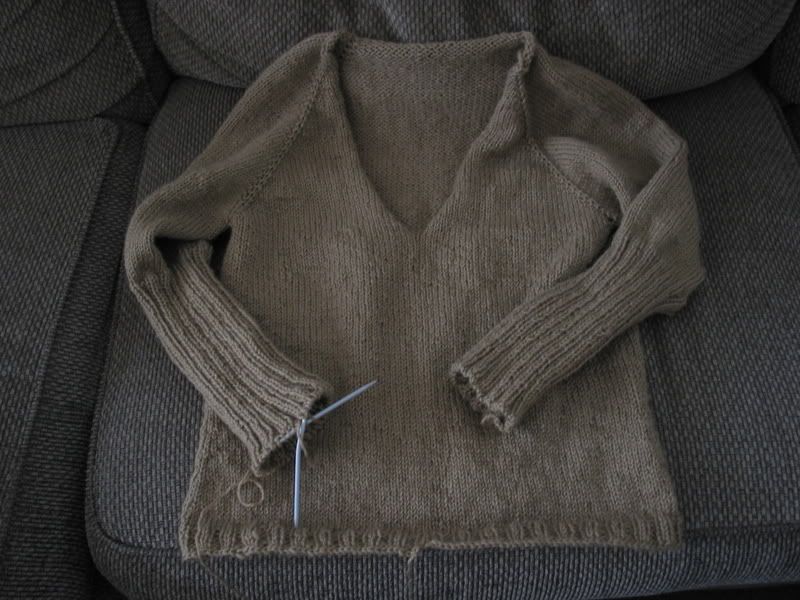 At this point I could decide to knit 1x1 ribbing as the pattern states, or knit the neckline like the Somewhat Cowl. I don't have this pattern, but I am guessing they are pretty close to being one in the same, except for the neckline. But no, I will complete the 1x1 rib - because I want a easy breezy sweater for those not so cold to wear a polar bear, but just cold enough to layer without a coat.
I think I'm going to like this sweater. I made some mods as you can see - I started the 2x2 ribbing at the elbow, just to give it some kick, and added decreases so it will fit over my hips. Also, instead of 1x1 ribbing at the bottom, I knit 2x2. No biggie, but I like the changes.
There is more good news for me in the knitting department, I can start knitting on Wicked again because I'm almost done with ESS and I have washed and dried Alpaca to continue with Wicked. See: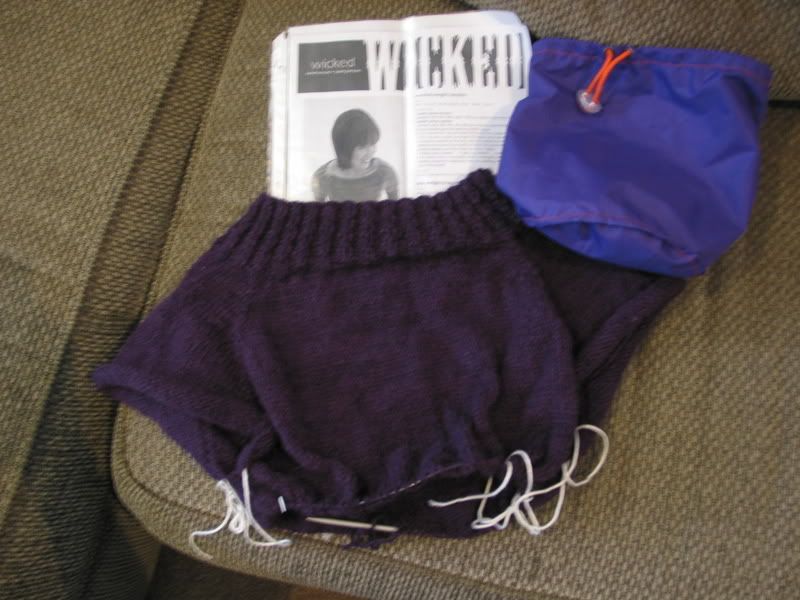 I have about 3" to knit before I start the decreases! I am still trying to decide what border I should add at the bottom - a 2x2 rib, seed stitch or the crossover pattern like the top. I have a ways to go, but I would like to resolve it soon.
BTW - I am posting this on Sunday morning KID FREE! The girls slept at my in laws last night and we watched movies until 1am this morning. Lucky girl, aren't I?
posted by Lisa @ 8:45 a.m.