My daughter, J was lucky enough to attend a skating afternoon with
Vicki Sunahara
, Assistant Captain of the Women's Olympic Hockey team this past Saturday. She had such a great time, can you tell: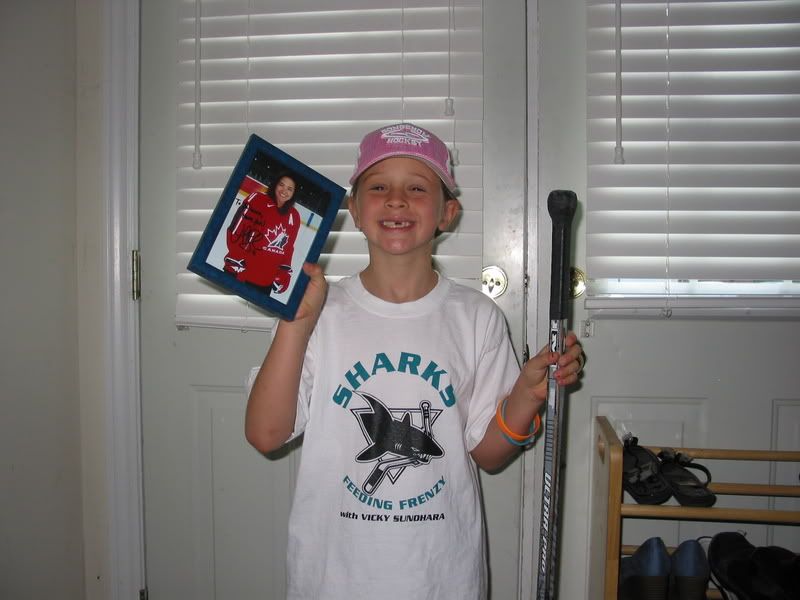 This was taken today right before heading off to school to present to her class for show and tell. She was so excited to attend on Saturday and was even more estatic when she got to hold Vicki's three Olympic medals! I think that was the highlight of the day, at least for her. Of course she was on the ice for two hours with Vicki, but my little miss J has her eye on the prize. That being the medals. Not only did Vicki bring in her Olympic ones, but 17 of her lifetime achievement ones. What inspiration and motivation for the 50 girls attending the event.
After my last post re: loss of my knitting mojo, I don't think it has come back 100%, but it is slowing creeping back. Here is a picture of the two socks I finished yesterday:
The blue one is for a friend, which fits perfectly. The yellow one for me. It fits okay, but the toe is a bit squishy feeling. Oh well. I'm not ripping it out and re-knitting it, I'll wear it just the way it is. The mate to the blue is at the heel section and I hope to finish it this week. I don't think it will be problem because I had a SnB at work today, one tomorrow night and maybe Tuesday at lunch. So plenty of time - I just have to find the energy to work on it and NOT make stupid freaking errors.
Have a great day.
posted by Lisa @ 10:30 a.m.