My girls went off to school on Tuesday without a hitch, but the younger one is having a bit of problems letting go of daddy at the door of her classroom. Poor thing, but she is quite an actress and can turn it on when she wants to, so I am sure she will get comfortable with her new routine shortly. Of course you couldn't tell she was nervous in this picture: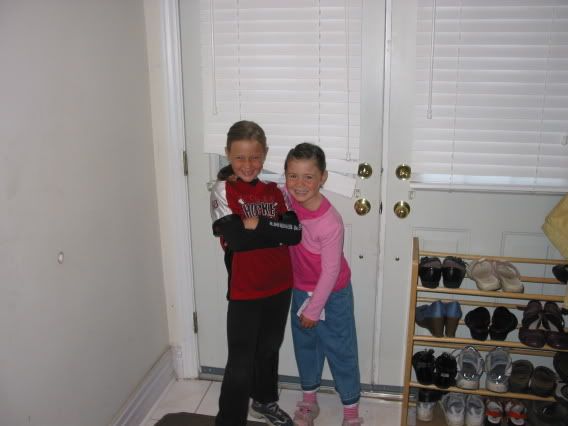 This was taken on Tuesday morning right before we headed out to take them to their first day of school. Ah, so cute. Like most parents, I am sure pictures are taken of their kids before going off to school and I am so happy we do it. I love looking back at past first days and see how much they have grown and changed. They both picked out their clothes for the first day - how different they are!

Anyhow, on to knitting. What do you think this is? The start of A) shrug type sweater or B) a frogged Something Red?
If option B is your final answer, you are RIGHT. The sweater is beautiful, however it doesn't suit my short waist body. I LOVE the yarn which is the Alpaca I bought at this years MW&SF, LOVE the style, but unfortunately the style doesn't love me. It would look fabulous on long waisted gals, but not on me. On the positive side of things, I have 1300 yards of a lovely dark plum Alpaca yarn to make another sweater with, so all is not lost.
Now I wonder what I can make with this yarn? I have enough of the stuff and would love to wear it this year, but then my knit to do list is quite long and added something else would mean I have to remove something else. Ah.....The decisions us knitters need to make.
BTW - my technical support person, A.K.A. my husband Chris is in the process of changing the look of my blog. Hey hon, how is it coming along? The main reason I want a change is, I'm getting bored with the sheep up at the top, and the colour and well, I'm bored. I need a change. Normally I cut my hair for a change, but I want to grow it out so it is much longer than what I have now. So the blog is what is in need of changing.
Have a good day.
posted by Lisa @ 11:08 a.m.