Look what I finished: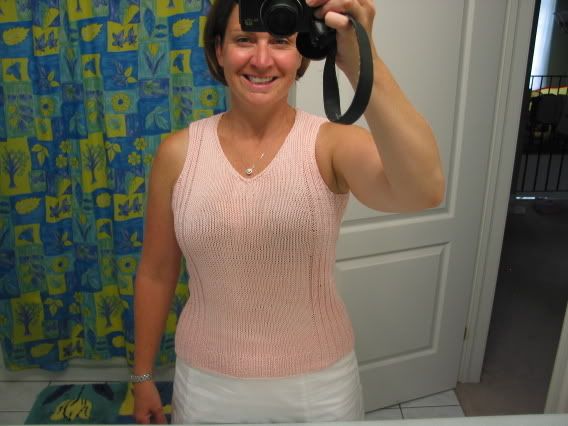 (Click here for a clearer picture)
I used Lewiscraft's Cotton Sensation in pale pink, size 37" (blocked the crap out of it!), knit exactly 5 balls and used 3.5mm needles. The pattern is great, but the yarn not so much. When I make another, it will be in much nice yarn, that is for sure.
I love Bonne Marie's patterns and I think it shows. I've made a
black chickami
and a
green one
, a
ribby cardi
, one ribby shell and just started a third chickami. Thanks Bonnie Marie for such excellent, well fitting patterns.
On the spinning front, things are getting a bit easier for me. I spun for about 15 minutes this morning and only once did the roving break, versus every other second! Unsure how good the yarn is, but I'll keep practicing, because as we all know, practice makes perfect.
I found out this morning I didn't get the job and I am very disappointed and feeling very sorry for myself. Such as life. I'll be back to my normal self soon enough I am sure.
Have a good one.
posted by Lisa @ 10:01 a.m.