Whew - things have been pretty hectic around here lately and will continue to be crazy until July 1st. Between cleaning the house to prepare for THREE parties (June 18th, June 19th and June 25th), M's dance recital (dress rehersals, longer than normal dance classes) and thinking of what to get teachers and day care workers for end of school presents, I think I'll go mad. And to add more to the mix, we have some large boulder rocks that need to be installed at the deep end of the pool (in place of a diving board). If they are not done, we can't lay the sod and complete the fence. Not such a big deal for June 18th and June 19th parties, but the 25th is J's birthday party and I would LOVE to have the sod done for the kids to run around. But, we can't do any of these things until the bobcat is finished. Timing is everything, especially when we are cutting it so close.
Oh yeah and I need to get my hair freaking trimmed. It is just hanging there - limp, like a wet noodle. I think when my hair looks like shit, I feel like shit, so I just need to find the time to get it cut. Yeah, okay! If I don't have time for getting a hair cut, can you imagine how much time I have for knitting? Zilch! With the little amount of time I do have, I started on the 2nd piece of Orangina, and work a row here and there, but at this pace, it won't be done until fall. Oh well...It will get done when it does.
I always feel a 'knit let down' after I finish so many largers projects and have nothing big on the needles. I feel like I'm not finishing anything and not happy with what is on the needles, hence the reason socks are my current project. I am at the toe decrease of the first Koigu sock, so that feeling of accomplishment should happen soon. I have the yarn to make three Chickamis - because really there isn't another tank top that I like better. Once I get over my craziness at home, I'm going to start one, because other than socks, this is a great on the go project.
My friend Carol, who gifted me
these socks
because she doesn't like the feel of Patons Kroy on her tooties, gave me another pair made from the same brand: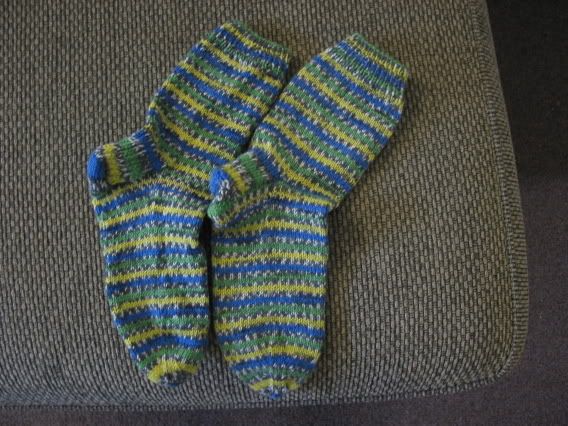 Nice friend, eh? I think so! THANKS Carol!
posted by Lisa @ 9:34 a.m.