Whew I'm back. It is always nice to take a break especially when one is so freaking busy. This week will be nutso crazy until I leave on Thursday evening to head out to the Maryland Wool & Sheep festival. My older daughter is turning 7 on Friday so I need to prepare her family b-day party which includes buying gifts, food, etc. You would think 3 days is enough time to prepare however I need to pack my bags for the weekend, the girls' bags to sleep over at their aunt and uncle's, buy everything and take the eldest to two nights of Sparks/Brownies events. Man, what horrible timing Brownies has - the nerve of that organization.
On to knitting - I finished Clapotis this weekend and in the process of dropping the final stitches. Now dropping those stitches are a big pain in the ass let me tell you. Why is it when you don't want the stitch to drop it flies faster than ever, but when you do, the stitch grabs every single fiber and doesn't let go on the way down? I only have about 3 more stitches to drop, weave in the ends and block it - so it will be ready for MW&SF. Woo Hoo.
Now that the Clap is done I can set my eyes on Green Gable. Here is a progress shot: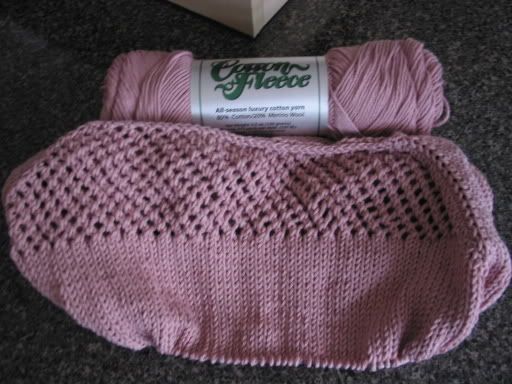 I have passed the increase rounds and now I am merrily knitting until desired length. I must be in a very pink mode because I cast on for the Hourglass sweater from the Last Minute Knits book: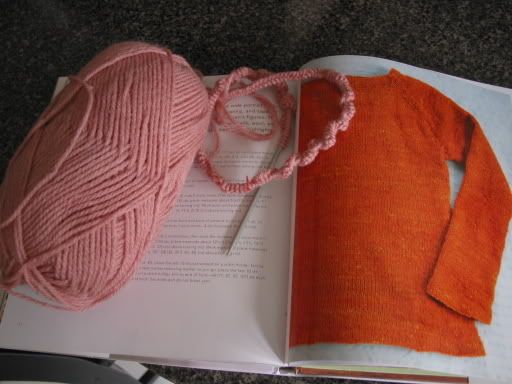 This is the knit I want to take with me on the drive down to MW&SF, I think. I haven't totally made up my mind what I will bring, but this is a pretty good option. I also want to try and seam my Cutaway before I go, but highly doubt I will accomplish that. I'll try, that is all I can say.
posted by Lisa @ 8:59 a.m.