A modeled shot of Clapotis: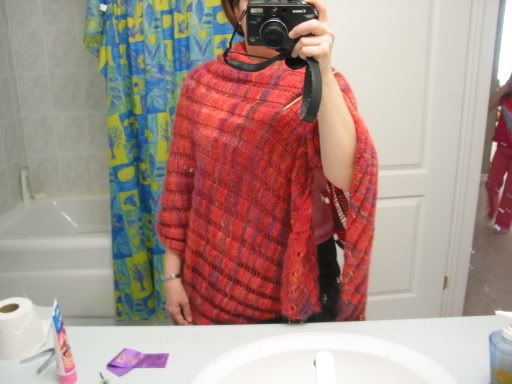 I LOVE this knit. I wanted it to be big, kind of loose and feel like it is completely wrapping me up in warmth and I so succeeded. I used Brooks Farm Harmony that I bought at last year's MW&SF. I am not sure of the dimensions, but I believe they are 24" wide and about 5' long. Wowza! The only item missing from this picture is a shawl pin, but in lieu of one, I am using a DPN. I hope to find a shawl pin that is not too tacky at MW&SF.
I only have 4 skeins of 9 purchased left from last year's MW&SF purchases - not bad folks, not bad. Of the 4 remaining, 3 are for a vest and 1 is for a pair of socks. So really, only two projects left to do from yarn I bought last year.
Green Gable update - I think it is slightly larger than I first hoped, so I am going to rip back a bit and integrate the same shaping I did on my chickami. I think this will make the tee that much more flattering.
I am a bit nervous Cotton Fleece will stretch out - is my fear justified or does the 20% merino wool help keep it's shape? Anyone know?
Well that is all for now.
posted by Lisa @ 10:32 a.m.