I think I have finished the body of Something Red, but for some reason I am holding back on binding off. I might make it a 3/4 length jacket, which is a lot longer than what the pattern calls for, but it just might work. I am meeting
Katherine
for lunch today so I'll get her opinion and update this post after lunch with the big decision.
Here is where I am now: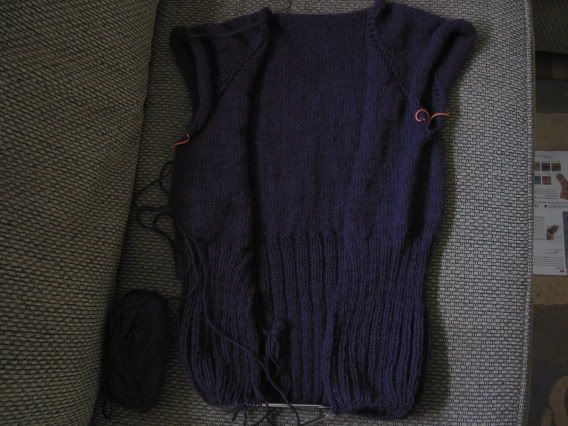 If this sweater is not meant to be a 3/4 length cardi, then I'm binding off at lunch today and starting the sleeves. Thankfully my arms are really short - I always knit about 13" inches before casting off at the arm holes. As you can imagine that doesn't take long due to my stubby arms - yeah for short arms - makes the knitting that much quicker. Well I guess that is the only positive thing for being short.
It looks kind of small, but I'm not worried because I need to block the crap out of the ribbing to accommodate my biggish hips and I don't like the look of the squishy ribbing. I want the ribs to be far apart so we can see them! I wonder how Alpaca blocks? Ah, another question for Katherine. She has a wealth of knowledge about knitting - and frankly about everything else you can possibly imagine. I doubt there is a question you could ask her and she doesn't know the answer. Yeah, she is THAT smart.

Have a good one folks.
ETA - When I asked Katherine if she thought I should make the sweater long, long, long - she kind of screwed up her face, which gave me the answer I wanted. Thank God I don't have to knit K2P4 rib any longer!
posted by Lisa @ 10:32 a.m.