I am back from Maryland and oh what a great relaxing trip I had. I didn't meet any bloggers, but that might be due to the fact we arrived at 8:15am and left at 12:30pm. Maybe a lot of them arrived later, or I was just too enamored by all the yarn/roving/books/etc to notice anything else. I bought four bags of roving in a multitude of colours which I didn't take pictures of. I'm not that big into spinning - i.e. really suck at it, so I'm not that keen to upload the pics. If you are interested, I will though.
Here are my purchases. First up - 3 Lantern Moon bags:

2 skeins of Koigu to make socks for moi: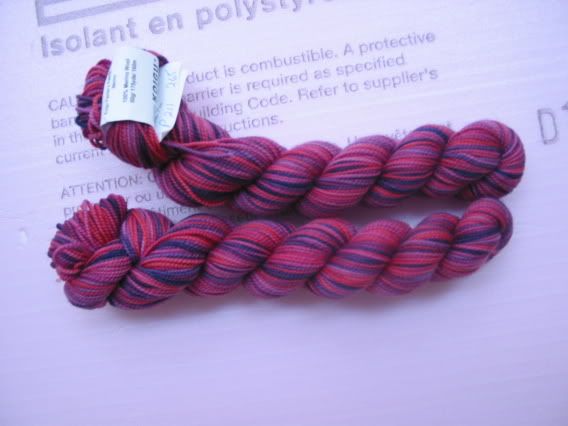 13 balls of alpaca in a nice deep purple which will most likely be a Something Red Sweater:




And last but not least, more Alpaca in a sport weight which I have no idea what I'll make from this, but couldn't possibly not buy it because I LOVE the colour: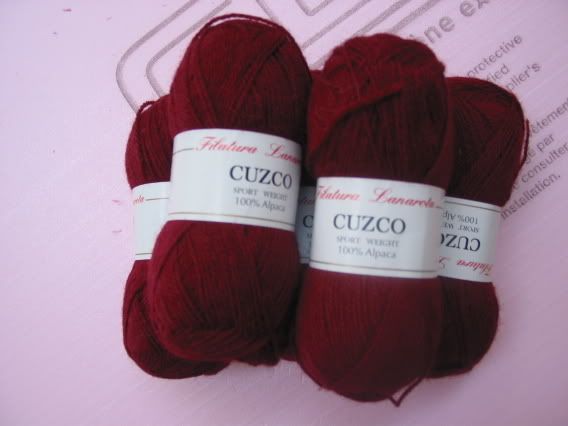 Once we were done with the festival, we headed over to a patio to sit, knit and have a few beers. It is funny how our spouses know us so well. After my first of two beers, I decided to text message my guy to say we were done. He promptly texted me back and suggested we go for a beer. Man, got to love being on the same wave length as your spouse. Does he know me or what? We then headed back to our 2 bedroom suite (yep that is right - 2 bedroom suite - the general manager of the Hilton upgraded our reservation from a 1 bedroom to a 2! - SWEET).

We then had Friday night's leftover Olive Garden dinner in our pjs watching some sappy movies and went to bed around 11pm because we had a long 6 hour drive to rest up for. Sunday was spent driving, driving and more driving to Ellicottville, NY. We stayed at this great new hotel, eat at a great place - Dina's and headed home on Monday.

This report pretty much sums up my little trip.
posted by Lisa @ 9:04 a.m.