People I am on a finishing role. Here is the little baby outfit I made for my friend's newborn: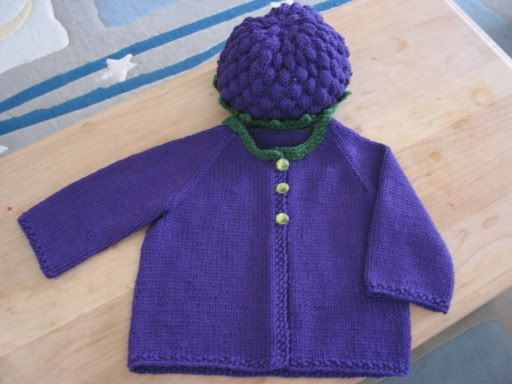 Project Specs: Hat - Berry Cute Hat, Cotton Fleece, 4mm & 4.5mm
Cardi - Daisy, Cotton Fleece, 4.5mm (I love this pattern - thanks Stephanie)
Here is a close up of the buttons. Blurry, but hopefully you can see the little bears on them. Try as I might, I am a horrible photographer. Brenda - help me, please!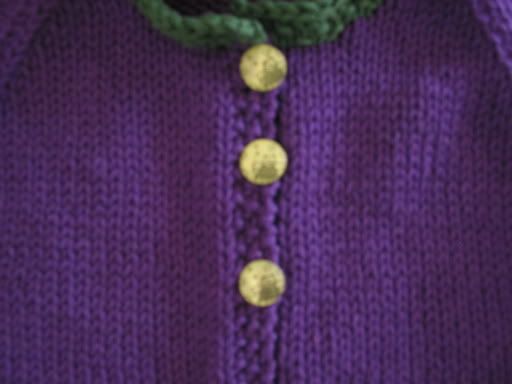 I love this little combo and will make it again when another little girl enters the world. BTW, the colour you see here isn't even close to the real colour. It is a berry colour, not blueberry pie.
Knitting with CF is so wonderful, it was such a shame when I finished knitting with it. Okay, that is going a bit far, but you know what I mean. The love will continue though, I did buy 3 more balls of CF in a really light pink to make Green Gable. Here is the link to the KAL. It appears this will be a very popular KAL, so get on the band wagon, I highly doubt you will regret making this sweater/t-shirt.
And another FO, here is the pair of socks made from St.Ives sock yarn gifted to me from Katherine.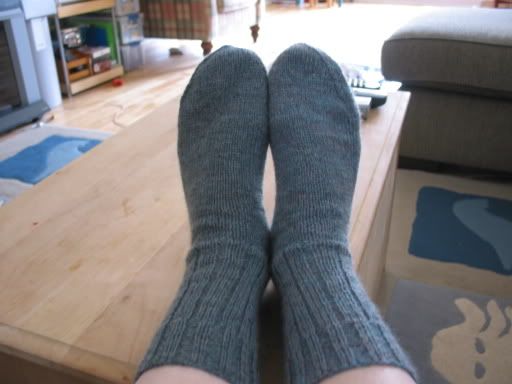 When I was knitting with this yarn, I thought it might be too itchy for me to wear, but oh no my friends, this St. Ives yarn is quite nice and comfy on my little feet. I will be making more socks with this stuff, that is for sure.
Thanks again Katherine! When are we meeting again to have lunch and squeeze in some lunch time knitting?