Yesterday when I posted how addictive Clapotee is, I had only knit about 20 rows. Now I have this many: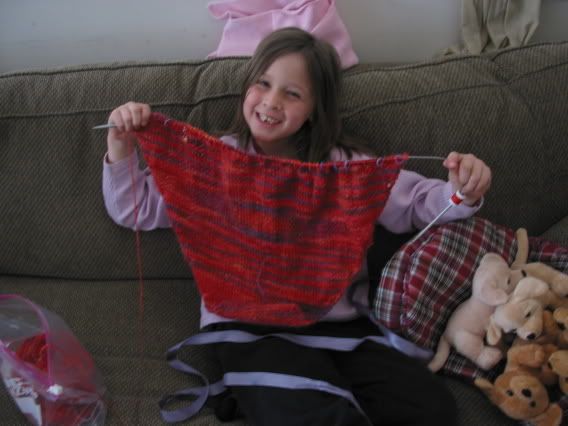 I have 113 stitches, so it is slightly larger than the original pattern now, but I want it to be bigger - similar to the size Wendy at Knit n' Tonic made hers. I am using Brooks Farm Yarn that I bought at last year's MW&SF and it is so freaking yummy. I thought it would be itchy, but after putting it up my pj top last night I found out I was dead wrong.
When I am at this year's MW&SF I think I'll be stopping by Brooks Farm Yarn's booth first to scoop me some more of grand stuff. Plus stopping at Tess Designs and then my friend and I decided we will hit the barn after these two booths because last year we (I really mean me) were too tired to look through the booths in the barn.
This year though, I do hope I get to meet some more bloggers, but if not, I am okay with that too. Considering I am far from a shy person, I do feel a bit weird going up to a 'complete' stranger and making idle chit chat. I am so not good with small talk. For those who know me - yes, you read that right, however I do know I am good at the long talk. Thought I would say it before you started bombarding me with comments about my talking.
Other knitting? I started the sleeve of Cutaway, only 104 more rows to armhole decreases. Sounds like a lot, but we all know how fast it will finish. I hope to finish both sleeves by the end of the weekend, so I can't start seaming the puppy.
Have a good one.
posted by Lisa @ 10:49 a.m.