Not sure if you can tell Spring Fling was a lot of fun for the kids: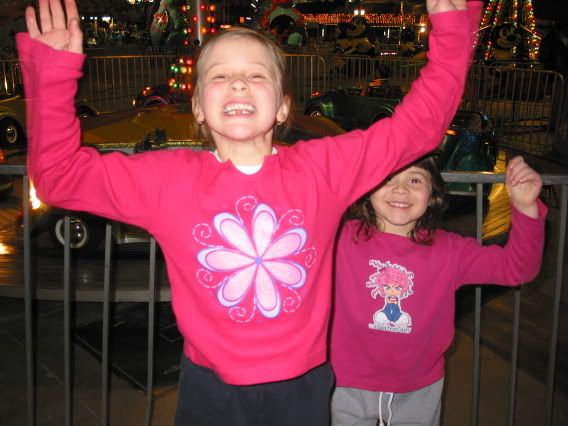 For my mom:



This is the first year I didn't have to go on any rides with the kids or coax them into going on the scarier rides. The older of the two rode the Pirate Ship about 16 times until she finally had enough. The younger one went on the larger than life Cannon Ball ride. This is the ride where you slowly go up the big tower and then it drops you super fast to the bottom. Thank God they can now do these rides without me. Can you tell I really don't like rides?

On to knitting. I finally sewed the two buttons on my Top Down Cardi, sewed in the ends and blocked it. Finally. These small little tasks take a wee bit of time, but man, I really did procrastinate doing them. I will post a picture tomorrow because today no one is home to take one for me. Oh yeah baby - no one at home? Well let me tell you how much a relish this thought, and even more so that I can live it.

I am off to knit the left front of Cutaway, now that I know the right way to cast on at the end of the row. What I was doing looked weird, so I emailed Bonne Marie and she promptly emailed me back with the right way. What an amazing person she is. Honestly, you can't get this kind of customer service anywhere. Thanks Bonne Marie, I am well on my way now to a finished Cutaway.


posted by Lisa @ 2:40 p.m.