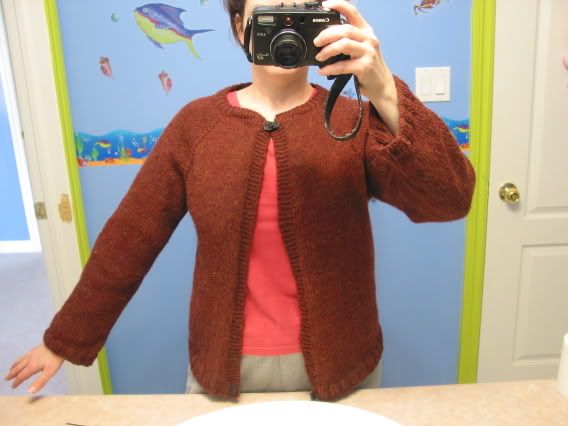 This is the amazing race, knitting edition sweater I raced to finish before LouLou. I did finish first, but Dianna was a very close 2nd. I hope she updates her blog with her NY highjinxs and shows us a picture of her lovely one.
I am having issues with the closures though and it is beginning to piss me off. I bought these buttons thinking they would work out fine, but I was dead wrong:
The garter stitch border is a bit flimsy to hold these buttons firmly in place, so I get a lot of gaping. I am going to go back to Fabric Land and see what other choices there are. Maybe I will knit on some I-cord ties? I need to find an answer soon because I would LOVE to wear it.
Thanks Laura for such a great easy pattern. I believe I'll be making another one in the future.
posted by Lisa @ 10:35 a.m.