I kind of cheated with my plan of only knitting socks this month, but I think the devil made me do it. Thats my story and I'm sticking to it.

I finished the shrug/bolero and now need to seam the sucker: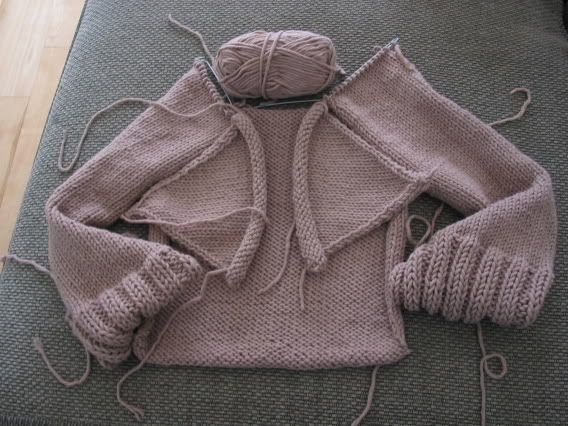 I still can't believe the amount of errors in what appears to be such a simple pattern. Thanks to
High Energy Knits
, she figured everything out and was kind enough to post the information.


I finished one of my BIL's socks and started the 2nd one, so I am well on my way to completing the plan. Got to love when a plan falls into place.

Last night, I went skiing for the first time in over 10 years with my girls and man it is not as easy as most people make it look. After a few trys down the little hill, my four year old was going up to the top on the magic carpet by herself and shooting like a bullet down to the bottom of the hill.


I still can't get over how well she did. And my older one? I didn't see her all night - she was with her father going up and down the big hills. BIG Hills. He even has to yell at her to slow down, which BTW she doesn't listen to him - she just keeps on going.


I am not sure what I am going to do when my 4 year old wants to go down the big hills, I know - knit in the Chalet because believe me I certainly won't be going down any big hills. I'm a chicken ya know.


Have a good one.
posted by Lisa @ 10:26 a.m.