Yes folks you read it right the first time, I am rip, rip, ripping my tubey. I LOVE this sweater, it was fun to make and it looks oh so good from the front: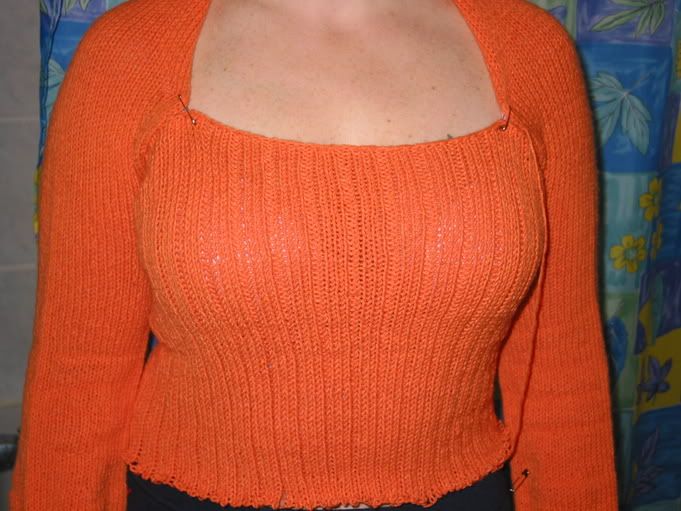 It is a shame it looks oh so bad from the back: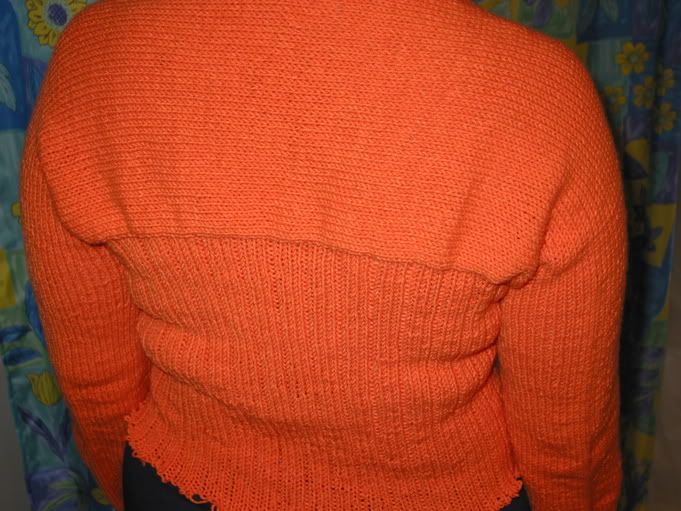 The shrug part of the sweater is just too big and bunchie. And, um, my back fat is just way too noticeable. I could live with that, but not with the size of the shrug. You know that little voice in your head telling you something is a bit off - well this time I didn't listen to it. Hell, I never listen to it. It appears I should start listening because it is always right.
I think the designer made the right choice to knit the main colour in black and incorporate stripes in the pattern. Normally I don't wear stripes so I thought I would give it a try in a solid colour - my mistake. It needs the stripes. Plus I was using stash yarn, and would have reduced the stash count by about 7-8 balls of yarn. Now that plan is thrown out the window.
Two other things that I don't like about this sweater (btw - it has nothing to do with the design - it is freaking fabulous) are the lines down the front and back of the arms which are caused by the laddering effect of using DPNs. It looks like I creased the lines in with a very hot iron. And last but not least, my stitches are very uneven. Could be me, could be the needles, could be the yarn. Not sure what the problem is, but I do know I am not pleased with the results.
So off the needles it will go. I am interested to watch the Tubey KAL to see what yarn others are using and how successful they are because I would like to give this sweater another go in the future. However I don't feel like trying out different yarns to get the right look and feel.
Have a good one folks.

posted by Lisa @ 11:43 p.m.